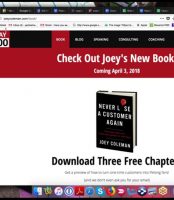 Join us for this exclusive Q&A with Joey Coleman on how to 'Never Lose a Customer Again'.
While new customers experience joy, euphoria, and excitement, these feelings quickly shift to fear, doubt, and uncertainty as buyer's remorse sets in. Across all industries, somewhere between 20%-70% of newly acquired customers will stop doing business with a company within the first 100 days of being a new customer because they feel neglected in the early stages of customer on-boarding.
Join The Conversation. Comment below.
comments