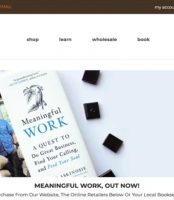 Our Maverick friend, Ari Weinzweig from Zingermans, introduced me to this incredible book that would have otherwise slipped my notice.
Here's what Ari said about it: "If you're looking for help in making your work and life more meaningful, Shawn's book is a must read. If you're already flourishing and feeling grounded in how your life is going, … you'll really want to read it. And if you think you don't need to hear his message, well, to paraphrase Shawn, you probably ought to read it twice! Meaningful Work is a not-be-missed-inspiration for all of us!"
That made me pay attention, and I was intrigued by the company.
From quitting his law career at the height of success to the fervent search for his passion and, ultimately, the creation of his internationally recognized direct trade chocolate company, Shawn shares his hard-won insights into doing work with heart and creating a business with a soul.
Now, if you've already heard of Shawn or read the book, you may have already tasted some of the most incredible and delicious chocolate.
They do something really incredible in how they truly partner with cocoa farmers in Tanzania, Ecuador and Philippines. They also have a unique way of funding impact services and meals in those communities—all connected to their "ecosystem that changes hearts." Shawn was generous enough to provide all Maverick members with a special limited edition chocolate they created just for the book release.
Hope you enjoy the interview and some chocolate!
– Yanik
P.S. You'll find a lot of overlap and incredible distinctions between Evolved Enterprise and Meaningful Work. I love this concept on page 63: "Follow this circle: our chocolate business supports our vocation, and our vocation supports our chocolate business, which supports our vocation. Our aim is to transcend the limiting belief prevalent in traditional business that says 'doing good' only exists at the expense of profit. It's not either/or. For us they drive each other and are inseparable. We integrate the notions of our vocation into every department and decision in the company."