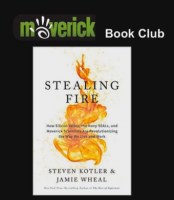 I recently had the pleasure of interviewing Steven Kotler for the Maverick Book Club.  
We spoke about his newest book, "Stealing Fire: How Silicon Valley, the Navy SEALs, and Maverick Scientists Are Revolutionizing the Way We Live and Work".
This conversation literally blew my mind, as we discussed the origin of altered "flow" states, how to access a transcendental and creative mind quicker than ever before, and what this really means for our productivity, happiness, financial success, and even the future of mankind.  
Watch the interview below to discover:
How to access the benefits of 30,000 hours of meditation "cushion time" in days…
The similarities between LSD use accessing peak performance.
Why Google and the rest of silicon valley are investing so much in creating "altered states" (the current dollar amount estimated in our economy is $4 trillion!)
Why you should skydive after a breakup.
How to access flow states using meditation.
Why most people are in a beta brainwave state… when they could be in the more creative Theta and even Gamma.
The negative effects of too much flow state.
How to become 500% more effective and much more.
About Steven Kotler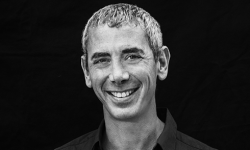 New York Times Best Selling Author, an award winning journalist, and the director of research for the Flow Genome project.  He is also one of the world's leading experts on high performance, disruptive technology, and innovation.