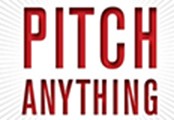 What if you could instantly position, present or promote anything (a product, idea or deal) by taking advantage of how our minds really work?
And what if that method had been proven to raise $400M?
Would you pay attention?
Hopefully your answer is "Hell Yes!"
My #1 book for 2011 has got to be "Pitch Anything" by Oren Klaff. (Get it now – it's a totally bad-ass book!) Pitch Anything is all about transforming the way you position anything you want to sell by connecting to the 'croc brain'.
According to Oren, "There is a fundamental disconnect between the way we pitch anything and the way it is received by our audience. As a result, at the crucial moment, when it most important to be convincing, nine out of ten times we are not. Our most important messages have a surprisingly low change of getting through."
And Oren has the chops to back this up. He's put over 10,000 hours into researching and applying the field of "neuroeconomics". His breakthrough methods have raised over $400,000,000.00 for deals he's pitched.
I was so blown away with the material in the book that I reached out to Oren and figured out a way for us to jump on the phone to share more insights into his Pitch Anything methodology.
It's late notice but you want to be sure to jump on the call live (I've only reserved a limited amount of lines):
Tuesday, December 6, 2011
1pm – 2pm ET
Conference Phone Number:  512-225-3549
Access Code: 93569# (Dial in 5 minutes early to be sure you get in)
To give you an idea of the kind of information we'll be taking about watch this 4-minute video Oren put together on Frame control (the very first part of his process):
Now we'll definitely cover a lot about framing especially how to disrupt power frames and reframe, time framing, intrigue framing, etc. All key elements.
And you'll also discover:
•    Prizing: How to make you, your deal or your product or service the "prize" instead of hoping people will buy. (And the little-known ways of using humor and defiance at the same time to create an alluring combination.)
•    How to use 'social dynamics' in business to further the deal along and never get caught in traditional "beta traps" set for you.
•    How and where to present numbers, proof and financials.
•    How to set the rules (and then change the rules as needed) to maintain your ultimate advantage without ever upsetting your opponent.
•    Seizing status and the power of 'push/pull' in your corner.
•    How to get the deal done without resort to trickery or totally see-through traditional sales tactics and much more.
is is going to be a powerhouse presentation that will give you all-new tools and techniques to use at your disposal. Miss it at your own peril. (Yes, we will probably have a recording if you really cannot make it but I never know how it long it takes me to put up recordings so you'll get the information and advantage first.)
Here's the call-in number again
Tuesday, December 6, 2011
1pm – 2pm ET
Conference Phone Number:  512-225-3549
Access Code: 93569#
And don't worry there's nothing for sale and Oren's not 'pitching' you on anything. (Though once again I'd highly, highly recommend you grab his book!) It's simply another opportunity to present real-world information for your Maverick MBA!