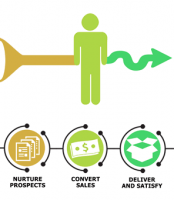 What is Lifecycle Marketing?
Lifecycle Marketing is a complete sales and marketing framework designed to help entrepreneurs maximize customer growth and value.
Developed by the team at Infusionsoft working with over 10,000 small businesses, this is the same approach Infusionsoft has used to grow from a start-up to a $38 million company—recognized five years in a row as one of the fastest growing companies in the U.S. by Inc. Magazine.
Here's the proven way to develop a fully-customizable sales and marketing plan that:
* Attracts (and nurtures) new prospects…
* Converts more prospects into customers…
* Extracts maximum value from existing customers and…
* Grows your referral business.
Check out the recording for a combination of Strategy and Systems to drive your business forward immediately.