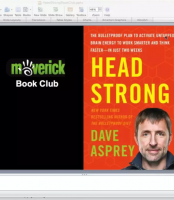 I recently did a live Q&A with Dave Asprey on his book, Head Strong: The Bulletproof Plan to Activate Untapped Brain Energy to Work Smarter and Think Faster—in Just Two Weeks.
Aside from being a friend of mine, Dave is also a pioneer in the health and fitness world and has created one of the most buzzed about nutrition brands with his Bulletproof phenomenon.
For those of you who know Dave, he is also obsessive (in the best way possible) when it comes to biohacking.
Dave revolutionized and revitalized coffee with his Bulletproof brand…and now, in Head Strong, Asprey shows us how to biohack our way to sharper, smarter, faster, and more resilient brains.
Enjoy!
Join The Conversation. Comment below.
comments