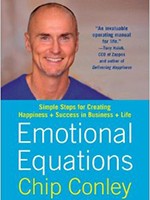 With its brilliantly simple formulas that illustrate universal truths, Emotional Equations is an exciting, new, and immediately accessible visual lexicon for mastering your life challenges. Award-winning entrepreneur and bestselling author Chip Conley created this invaluable new self-help paradigm in order to break down life's toughest obstacles into manageable facets that you can see clearly – and influence.
When he suffered a series of tragedies in the space of just a couple years – and his heart inexplicably flatlined after a speech – he began using what he came to call "Emotional Equations" (like Joy = Love – Fear) to help him understand and articulate what was going on in his internal weather system. These simple formulas helped him focus on the variables in life that he could deal with, rather than ruminating on the unchangeable constants (the bad economy, death, taxes) he could not.
Now, this veteran CEO shares his profound insights with the rest of us and shows how we can all become Chief Emotions Officers. Emotional Equations will give you a new perspective on your life and lead you beyond the concept of emotional intelligence and into an emotional fluency that enables you to identify, name, and manage elements that can define, hurt, and help you.
Listen as Yanik gets the inside scoop from Chip Conley himself:
Join The Conversation. Comment below.
comments