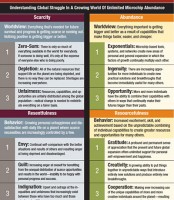 Let's face it, today more than ever we are bombarded with messages about how 'bad' things are. Whether it's the economy falling off a cliff, global resource being depleted or even the possibility of the Mayans being right about the end of the world.
It's enough to make you want to either dig your head in the sand or go build a bulletproof bunker in the middle of Montana.
Quite frankly, it's easy to think things are getting worse and combined with a rising global population – you might even believe things are going to continue getting worse.
But I don't think so….
In fact, I believe we are on the cusp of using new technology to help create a world of abundance and growth. And this is not some rose-colored "Pollyanish" view.
There's a very real switch in the heads of most people from scarcity-minded to abundance minded. You can't be both.
We had a long discussion about this in my last Strategic Coach session with Dan Sullivan. (btw – if you're a high growth oriented entrepreneur you must check out Dan's new 10x program. Very powerful! I cannot recommend it enough.)
Dan created a matrix that showed the major differences between the Scarcity minded and Abundance minded world view. (I bet as you read this you can certainly pick out people in your life who fall on either side.)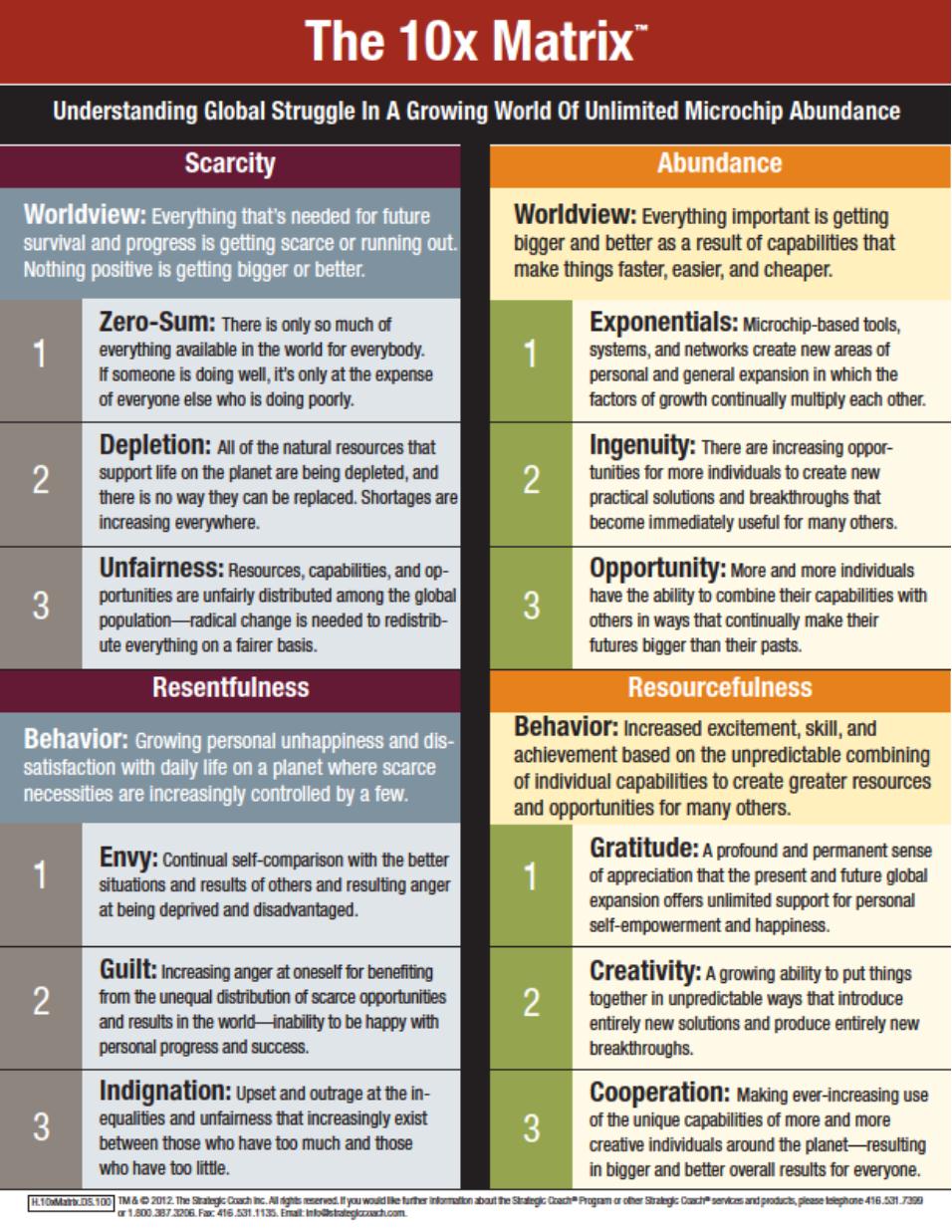 For Scarcity minded individuals the world is getting worse. We are running out resources and the more individuals added the worse it gets (ie. the more people we add to the planet the quicker we use up the natural resources.)
On the flip side for Abundance minded individuals, their world view is expressed that everything important is actually being expanded because of capabilities to make it easier, faster, cheaper, etc. (Think the leverage and exponential abundance created by the microchip.)
Inside the different world views there are more specific aspects. For instance there are 'Zero-Sum' people and there are 'Exponentials'. The Zero-Sum world view is that there is only so much to go around and I get mine by taking away from you. The Exponentials are the ones out to make a bigger pie. There are people who fundamentally believe the world is Unfair. They believe resources are distributed to a select few and need to be redistributed. While others on the flip side believe in Opportunity, that individuals can actually contribute value based on their unique talents and abilities to create a better future.
Then if you look at the 10x Matrix you see each world view also brings with it very telling behavior. On the Scarcity minded side it results in Resentfulness with Envy, Guilt and Indignation coloring your actions. On the right side of the matrix the behavior is Resourcefulness if you have the Abundance mentality. That behavior is characterized by Gratitude, Creativity and Cooperation.
There's no contest in my eyes on how I'd rather live.
And the interesting thing is focusing on a feeling of gratitude essentially precludes envy. It's just not possible to be feeling gratitude and envy at the same time. One of my favorite exercises is writing in my journal about all the things I'm grateful for. It seems trivial but it really opens up this upward spiral of positiveness. (Click to read more about the power of journaling.)
Our own emotional state has a big deal to do with how we show up as leaders in our business or personal lives. My friend Chip Conley's new book "Emotional Equations" fits in our discussion.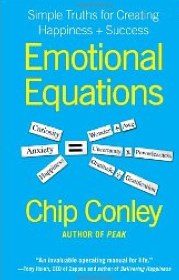 Chip is the founder of Joie de Vivre Hospitality, which he grew into America's second largest boutique hotel company. His previous book PEAK was absolutely amazing and it was all about how to get your organization and customers more self-actualized. (I did an exclusive interview with Chip you can check out here.)
We had Chip present to the Maverick1000 members at our last M3 Summit on his newest material all about yourself and dealing with your internal emotions. I think that goes hand-in-hand with creating a more abundant world view. Chip had worked on these 'equations' for emotions like joy or anxiety or jealously.
For instance, Jealously = Mistrust / Self-esteem
Mistrust divided by self-esteem = jealously.
So there are 2 ways of reducing the jealously factor, first it means the bigger and more expanded your sense of self-worth and self esteem the less jealously you'll feel. That's the denominator (bottom of the equation) and weighs heavily in how jealously shows up. Chip mentions a Psychology Today survey that found people whose responses indicated a high degree of jealously tended to show these characteristics: 1) low opinion of themselves; 2) saw a large discrepancy between how they really are and what they would ideally like to be.
On the other side of the equation is mistrust and the more someone is mistrusting of the world – the more jealously will crop up in their behavior.
There are many other self-evident and universally true equations Chip showcases in this book. Here are a few poignant ones:
Anxiety = Uncertainty x Powerlessness
Happiness = Wanting What you Have / Having What You Want
Joy = Love – Fear
Flow = Skill / Challenge
Chip was kind enough to give me a study guide you can download you can download so you can see a little deeper how the Emotional Equations work. I strongly recommend you pick up the book.
Abundance
One of my favorite new books that got me really thinking about this discussion on Abundance is a book by that exact title, Abundance, by Peter Diamandis and Steven Kotler.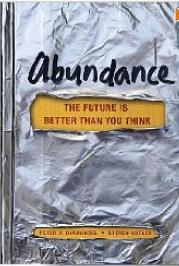 Our Maverick1000 group has also been privileged to have Peter come in 2 years ago before our zero-gravity flight to talk about the innovative work he was doing. Peter is one of the people I really look up to as the CEO of the X Prize Foundation and co-founder and chairman of Singularity University. I'll always be grateful to Peter for helping spur the commercial space industry with the Ansari X-Prize, which provided $10M for the first ship that could go into space twice in one week. The winner was Burt Rutan's Spaceship One – now being commercially produced by Richard Branson's Virgin Galactic.
Peter and Steven's new book has the audacity to claim we'll be able to meet and exceed the basic needs of every man, woman and child on this planet in the upcoming future. It's a pretty bold (and very contrarian) perspective that's backed by several convergences. Yes, I'm an optimist but also a realist looking for facts and research and this book provides evidence for why the future will be much better than you think.
Combined together Abundance cites, exponential technology, technophilantrophists (think Gates foundation), the DIY innovator and the rising billions as catalysts for this positive change.
How? Abundance outlines the fundamental reasons why innovations and breakthroughs WILL occur. The answer Curiosity, Fear, Greed and Significance.
Curiosity – This is the desire to find out why and drives much of science (according to the book – the weakest of the bunch).
Fear – Extraordinary fear enables extraordinary risk-taking. The example cited in the book is about the U.S's response to the Soviet space programs success.
Wealth – There's surely a whole lot of money to be made from these new technologies and provided exceptional value.
Significance – We cannot underestimate what people will do for their legacy. I think Bill Gates greatest contribution will be his foundation that provides more impact than even Microsoft has.
Want to be blown away? Please click this video below to see Peter's presentation at Maverick member, Joe Polish's, Genius Network meeting: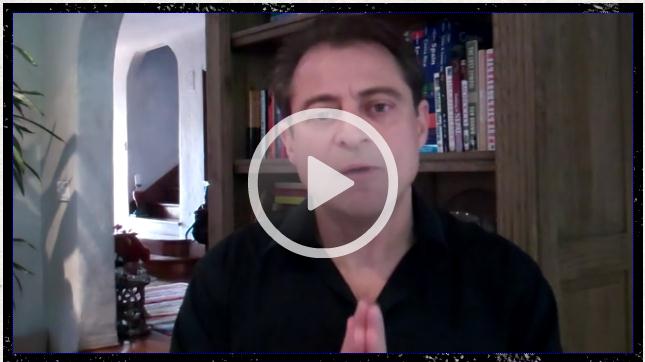 Attendees pay $25,000 per year to be part of Joe's group and they were so universally moved by the message of Abundance that we banded together to create a promotion campaign for Peter on the spot. The material in this book should be mandatory for anyone to see the full implication of where we are heading and the opportunity to truly create abundance. I love it and lend my full support. You must pick up a copy for yourself and everyone else you want to hear this message.
It's clear that we are in a time of exponentially growth and development and the more inter-connected we become with the Internet or mobile – the more ideas and frameworks will be collectively developed to solve some of the biggest issues facing our world. I think the people who read, watch and apply the Abundance mentality and message will be the ones leading the charge.
What do you think?
Join The Conversation. Comment below.
comments