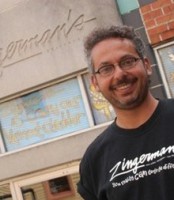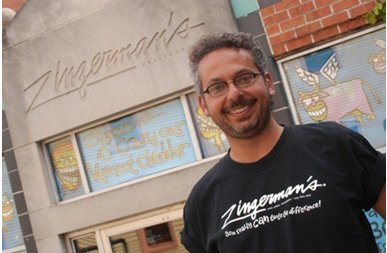 Ari Weinzweig, in front of where it all started with the Zingerman's deli.
A few weeks ago I attended the INC500/5000 conference and had the opportunity to connect with Ari Weinzweig. I had heard and read a bit about Zingerman's approach to business and knew it was interesting and different…but didn't realize how unusual it really was until I dug in.
I attended Ari's breakout session, had a few conversations with Ari, I read his new book called "A Lapsed Anarchist's Approach to Building a Great Business" (highly recommended), started researching them, etc.
And the more I saw — the more I really loved how their built their business, the philosophy, the culture and more so I knew I had to ask Ari to jump on the phone with us. (If you want to skip the background on how cool Zingerman's is just sign-up at the bottom of this page.)
Here's the back story…
It all started as a simple deli in Ann Arbor, Michigan, in 1982 with a co-founder, Paul Sagninaw. The notion was to give local residents real, authentic deli food and never skimp on the quality. Over the next decade, Zingerman's deli because a hit for their food but hit a plateau at about $5 Million in revenue. It was at that point they came up with an ingenious plan for creating growth without sacrificing the elements of being a small business in a community they loved. In fact, Ari, was adamant that he would not expand Zingerman's deli to a bunch of other cities, attempt to duplicate the ambiance and create some mediocre version of what they started.
The Power of Visioning a Positive Future
Instead in 1992 Ari and Paul wrote out their vision for 2004. It was to have a group of 10-12 small businesses, referred to as Zingerman's Community of Businesses or ZCoB. And that's exactly what happened. Each one would bear the Zingerman's name but have their own unique identity and specialty. Everything from a bakeshop to a mail order facility to a training and seminar company teaching the 'secret sauce' to their success.
Even though Ari is loathe citing one secret for their success (and truthfully – there is never just one factor) but getting good at visioning is something they do everywhere in the organization so there's got to be something to that:
"One of the biggest contributors to the level of creativity in our organization is the regularity with which we teach, use, and stick to the visioning process. We start pretty much every planning effort with a draft of a positive vision of the future. And we do it a every level of the organization. Whether we're working on visions for a business fives years out, a project that will be done in five months, or a dinner pecial will be on the menu at 5:00 tonight, we're pretty consistently 'beginning with the end in mind'." – Ari Weinzweig
In fact, it's been proven that when people use visioning instead of simply problem solving, energy levels increased, innovative ideas flowed and people were excited about eager about their future. What's more, visioning also gets you clear on what you do NOT want to do in your business so that you can easily turn away, seemingly, golden opportunities that come your way. (This is the why Ari and Paul always said no to create franchises or other locations outside Ann Arbor.)
Here are the 4 elements of a successful vision:
1. Inspiring: Others are excited about the vision and want to go there.
2. Strategically sound: It might be a stretch, but it is do-able.
3. Documented: It's in writing.
4. Communicated: Everyone knows about it.
(Side note: If you want to see an example of Zingerman's 2020 vision — go here)
And the power of visioning is exactly what Ari and I covered during this special teleseminar. If you missed it – please check it out here and leave a comment.
Here are a few of the insights we covered:
The exact 8-step recipe for writing a vision of greatness and getting clear on the future you want.
How to get your entire team onboard with your vision and who should create the vision.
The difference between a mission statement, a vision and a strategic plan (and why there is a HUGE difference)
Who you should absolutely share your vision with as you're developing it.
Why "positive futuring" really does work. (Zingerman's actually has each employee work on visioning regardless of their position in the company because it's that important.)
How often you should re-visit the vision.
How to "reverse-engineer" your vision and create your ideal future.
Listen to the replay here. Don't worry there's nothing to buy though I absolutely, whole-heartily recommend Ari's new book "A Lapsed Anarchist's Approach to Building a Great Business". I think you're crazy if you don't add this to your library before or after you hear this!
Join The Conversation. Comment below.
comments